Concerned about a member of staff or volunteer?
Updated 07/07/2021
The Brent Local Authority Designated Officer (LADO) is responsible for overseeing the management of all allegations against people who work in a position of trust who have deemed to have abused their trust when working with children in the Brent area.
An allegation of abuse can be made against any staff member at any time in that they may have
Behaved in a way that has hurt or harmed a child, or may have hurt or harmed a child
Possibly committed a criminal offence against or related to a child
Behaved in a way that indicates they may unsuitable to work with children
Brent Local Authority fulfils the national expectation to have a Designated Officer in place with specific responsibility for:
being involved in the management and oversight of individual cases
providing advice and guidance to employers and voluntary organisations
liaising with all relevant agencies to support the overall management of the allegations process
monitoring the progress of cases to ensure that they are dealt with as quickly as possible, consistent with a thorough and fair process
It is for this purpose that the process below has been established and must be followed when there is an allegation or concern raised about any person who works with children, in connection with his/her employment or voluntary activity.
Contacting the Local Authority Designated Officer (LADO).
When an Allegation is made against a member of staff,the Designated Senior Manager (DSM) within your agency should be informed and should immediately consult the LADO.
You must complete the LADO Referral Form.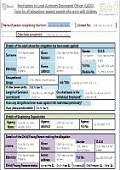 Click on the image to download the form
ALL REFERRALS SHOULD BE SENT TO THE BRENT FAMILY FRONT DOOR:
Telephone: 020 8937 4300 - Option 1
Managing Allegations Leaflet
Click on the picture below to access a leaflet that was developed by Brent LSCB for people that are facing an allegation.